After skipping thru the happy little corn maze with the kids, Dan & I got gorry and went to a real Halloween party.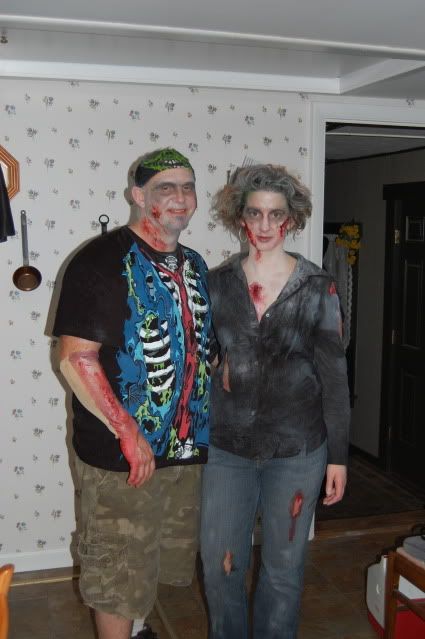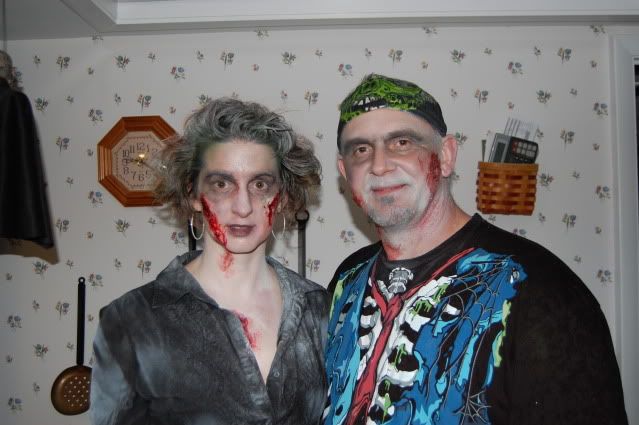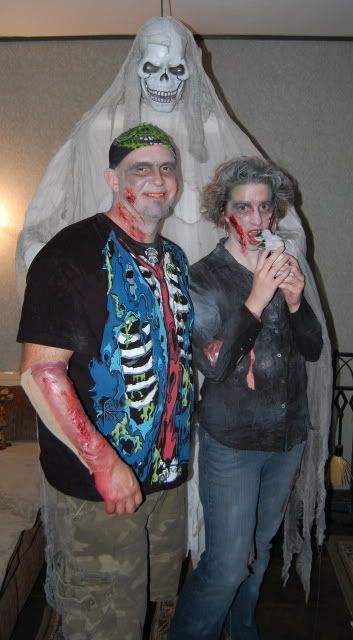 I guess Dan is a Happy Zombie - he kept smiling in the pics.
On another note, I made it back to the gym today.
Since I'd been a little out of practice, I set out to do a 5K in 40 minutes. I did it in 32 minutes. That was a good thing. Tomorrow, I'm adding a mile. I must say, I absolutely hate running indoors. It's sooooo boring.
The gym got all new equipment. That provided a little entertainment as I watched all the muscles of the gym moving everything around and getting rid of the old as they prepare for the new & improved stuff. I had to wonder, does the pretty, new & improved gym equipment make a toned body come easier?
I got lost in my thoughts for a while and Then at mile 2.42, it happened.
I got bored watching the new equipment come in, I was bored with the treadmill, I was extremely bored with my iPod. I didn't want to be running inside anymore. I wanted to be outside. I didn't want to be a rodent stuck on a wheel. I didn't want to have a not-so-little STOP button staring at me, screaming at me to press it & get back to work. I wanted to be trapped a mile away from my office and have no choice but to run all the way back. So I came up with a solution - close your eyes! Imagine you're running out at the beach, in the woods, Anywhere but stuck in the gym! The stop button will disappear and I can pretend I'm outside on a beautiful 70 degree day with the sun on my face.
Lesson Learned.
Do Not Close Your Eyes while running 7mph on a treadmill.
As confident as you may be, You will not continue to run in a straight line.
Fortunately, I caught myself before I looked like THIS girl & saved myself completely humiliation.
Especially in front of all those muscles.
Next time, I'll just change the channel on the tv in front of me.
It's going to be a long winter. Stuck inside. On a treadmill.